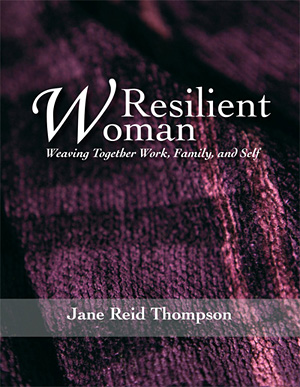 217 pages
Price $22.00 (CAD)
Shipping and Handling to Canadian addresses: $6.00 (ea. book)
Maximum five books per order via Paypal. For larger orders please contact me directly via the Contact Me page.
Resilient Woman: Weaving Together Work, Family, and Self
Do you wish you could be a great mom, and do a great job at work? Are you finding it's hard to do both? You're not alone.
At the precise moment that a woman finally gets what she has always dreamed of – an interesting career and wonderful children – she finds out just how daunting that mixture can be. We women have been launching ourselves into the choppy waters of working motherhood for decades, and it doesn't seem to be getting any easier.
Resilient Woman: Weaving Together Work, Family, and Self provides support and advice for overwhelmed working moms. It explores why it is so challenging to be a working mother, how we can weave together all the pieces of our demanding, stimulating lives, and ways we can build our resilience so we can bounce back from the ever-changing trials those lives throw at us – enjoying the journey instead of just struggling to get through each day of it.
Full of 'aha' moments, Resilient Woman is insightful, funny, and helpful. Offering social commentary, anecdotes from the lives of dozens of working mothers, and historical analysis, it also provides practical tools to help women live better lives – not in ten years, but tomorrow.